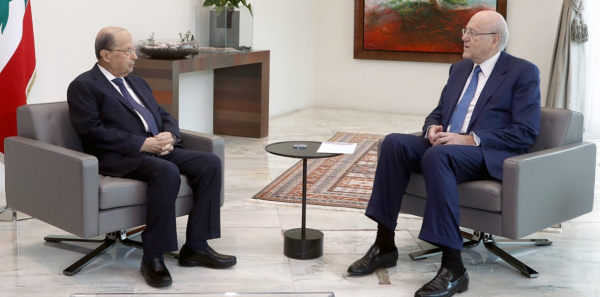 Communists say new Lebanese government will make people pay for crisis created by those in power
LEBANON'S new government, whose formation has ended more than a year of political stalemate, will fail to resolve the country's deep economic crisis, the Lebanese Communist Party warned at the weekend.
Prime Minister Najib Mikati urged cautious optimism after signing a decree with President Michel Aoun on Friday which appointed a 24-member technical cabinet of non-partisan specialists.
But he said that Lebanon's people must "tighten their belts" as he revealed that there were no reserves left to maintain subsidies on basic goods such as food, medicine and fuel.
Mr Mikati, a Sunni businessman who has served as prime minister twice before, vowed to reopen negotiations with the International Monetary Fund in an attempt to gain a deal to alleviate the financial crisis.
"We will make use of every second to call international bodies and ensure basic everyday life needs [are met]," he said.
Mr Aoun claimed that the formation of the new cabinet would see Lebanon "get out of hell" and "climb out of the hole that we are in."
But others doubt the ability of the new cabinet to overcome the crisis, fearing that sectarian divisions may hamper efforts to bring stability.
The Communist Party called for the government's overthrow, pointing out that the new administration formed part of the system responsible for the country's collapse in the first place.
"Those who caused the crisis and carried out the biggest looting of the Lebanese people cannot be the solution," it said in a statement published on Saturday.
"The largest party in the government is the party of the banks and capital," the statement added, warning that the new ministerial team would make the Lebanese people pay for the crisis "to protect the interests of billionaires, bankers and senior depositors."
The party insisted that the only solution would be for a popular mobilisation of all forces, including trade unions and civil society organisations, to "bring down this system" and inaugurate real change.
Lebanese politicians have come under intense pressure from the United States and former colonial ruler France to form a government after the entire cabinet resigned in the wake of the August 2020 Beirut port explosion.
The new administration is expected to receive parliamentary endorsement. Elections planned for next year will take place on time, Mr Mikati said.